SAP Hybris Marketing
Customer journey has changed drastically over the years. It is not just a product quality that determines the buying decision, it is more about customer experience with your brand. Now customers talk with their friends circle, search you on web, compare with other products, ask on social media, call you directly then decide whether to buy or not.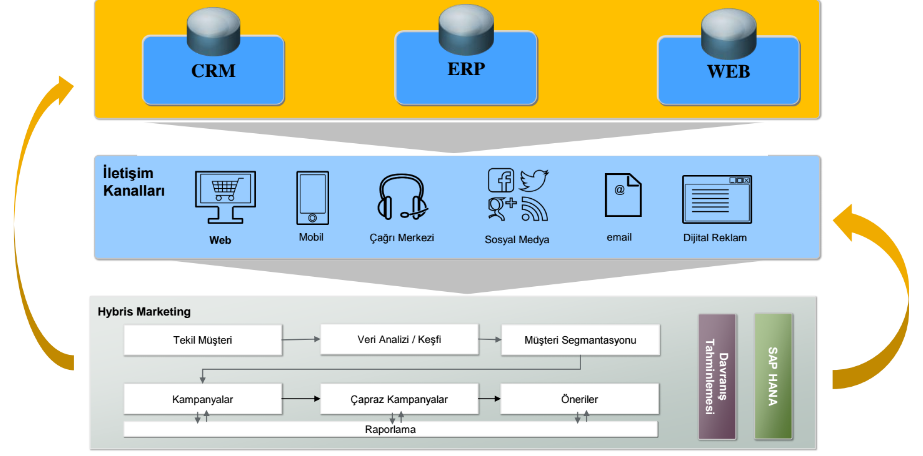 Digital transformation enabled companies to analyze customer behavior on different channels. Due to this advancement companies now can recommend right products in right time. Customer analysis is not based solely on buying history anymore.
Hybris Marketing was developed to cover all these needs. It provides real time customer analysis and helps you reach customers in a more meaningful way.
First Hybris Marketing collects all customer data from different channels like web, mobile, in-store, call-center, social media etc. and put it in a single view.
Then Hybris Marketing provides analysis tools for you to segment your customers based on geography, buying history, customer behavior.
Hybris Marketing is run on HANA. Thanks to HANA infrastructure segmentation and customer analysis can generate results within seconds even with millions of data points.
After you segment your customers based on your needs, you can target them with Hybris Marketing campaign tools and track campaign success. These campaigns and target groups can easily be automated too.
Voyacon has been implementing SAP CRM since 2001 and did many projects for marketing departments. Solution offerings were around CRM and SAP BI components. Hence Voyacon is well aware of the companies requirement and limited capability of SAP CRM in this area. Hybris Marketing offers a brave new world and Voyacon is proud to be your guide in this journey.